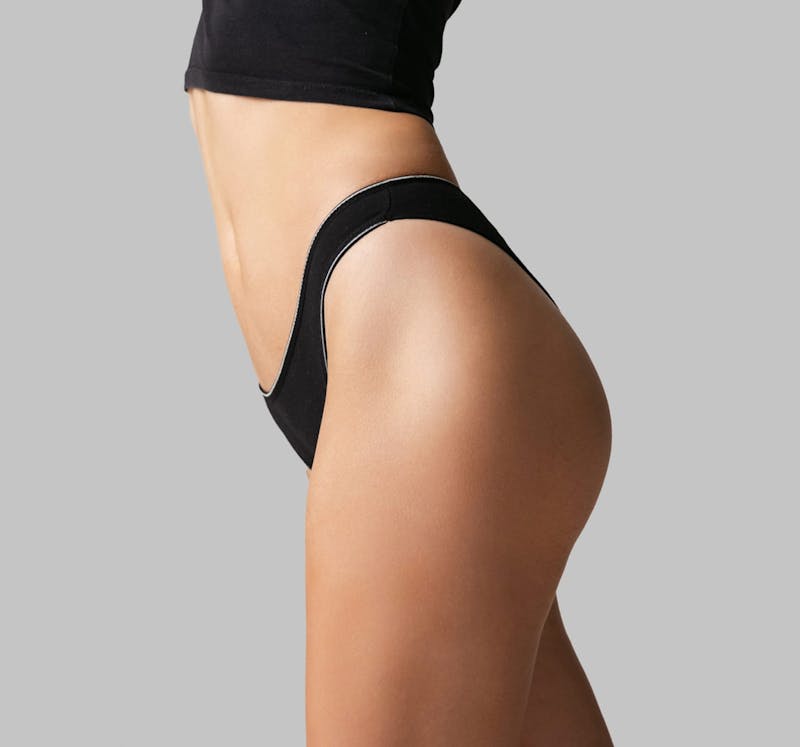 UPDATED: 02/05/2019
The recent revolution of buttock enhancement is no longer a phenomenon of Miami. Seattle, get ready. Different techniques of buttock enhancement are well in play at our practice. From fat (Brazilian Buttock Lift) to implants to buttock lifts our practice has established a singular dominance in this field in all of the Pacific Northwest. The most recent statistics from the American Society of Plastic Surgeons showed a very large and popular rise in techniques of enhancement all around the country. Also, the popular media figures such as Kim Kardashian, Nicki Minaj, and Jennifer Lopez have really popularized the sultry and sexy reality of having well-shaped buttocks.
Age, genes, pregnancy and weight fluctuations are responsible for the loss of shape of the buttocks. They lose their youthful cushion, they flatten and they droop. A reversal of these natural events and a recalculation of the proportionate size of the buttocks can enhance the figure, and bring about a sultry factor that would otherwise not be attainable by conventional body contouring. Buttock enhancement is effective and it is popular. Here are a few gluteal enhancement options:
This has become one of the most popular ways to enhance the behind. The concept of fat transfer from one part of the body to another is a hot topic in plastic surgery. For buttocks, fat transfer has been refined into a procedure that is effective, natural and long-lasting. The operation is an outpatient procedure, taking 3-4 hours and includes harvest of fat from a variety of areas of the body, purification and preparation of fat, and injection into the important areas and plateaus of the buttock. A fair bit of artistry and technique goes into this. It is important to realize the natural landscapes of the buttocks and to inject the fat to feminize and to round out the buttocks.
One advantage to a Brazilian butt lift is that there are virtually no scars and the downtime is minimal. We discourage patients from lying on their backs during the first week of recovery. Returning to work is okay at one week, and exercise at four weeks.
Click here to see Brazilian Buttock Lift before and afters.
Gluteal Augmentation (Butt Implants)
No everyone is a candidate for fat transfer, as they might not have enough fat cells to harvest. In this case, gluteal implants are an option for individuals who desire a rounded, well-projected buttock. The top of the gluteal crease is used as the entry point for the implants (where small incisions have been made). The implants are often placed under the covering of the muscle (sub-fascial) or inside the muscle (intramuscular). Variety of shapes, sizes, and textures of implants can be used. The operation takes about 2 hours and can include liposuction of the lower back area for a better shape. Sutures and glue are used to close the incisions. Typically, patients go back to work in 7-10 days. Patients can resume exercise 4 weeks following their procedure. It is important to not lie on the buttocks for about 2 weeks.
Composite Gluteal Augmentation
I have introduced this novel concept that uses the technology and the artistry of fat injections along with the definitive enhancement of implants. This is an ideal operation for individuals who need implants who could use some additional fatty cushion in their buttocks. The operation is also an outpatient procedure that takes about 4 hours and requires the same downtime as a gluteal implant procedure.
Significant weight loss, excess skin and a high degree of droopiness might require a more invasive operation to enhance the buttocks. A buttock lift is the lift of the entire plateau of the buttocks, along with the outer thighs and can be combined with frontal procedures such as a tummy tuck. It requires placement of an incision that is similar to the lines of a G-string, emanating from the middle of the lower back and going towards the groin. It takes 4 hours to perform it and is still an outpatient procedure. Most patients require 2 weeks off work and exercise is resumed at about 5-6 weeks.
Any of these procedures can be catered to create a dramatic result, and more often a natural and subtle result. Every patient is different. We truly individualize each plan to meet and match the expectations and the desires for buttock enhancement.
Click here to see buttock lift before and afters.
Explore the options and be a more beautiful you…