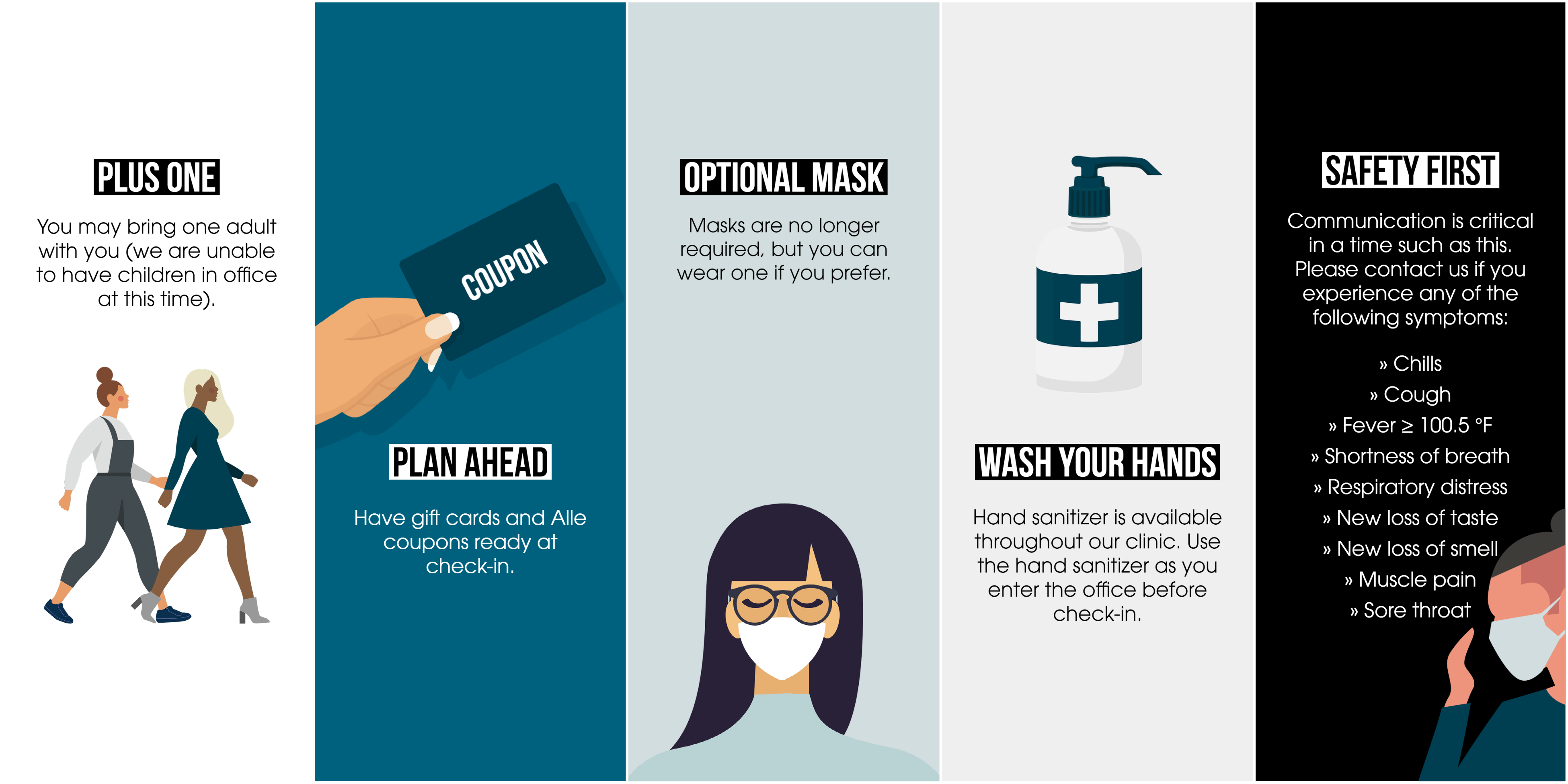 Preparing For An In-Office Appointment
We are excited for your upcoming appointment! As always, your safety remains our top priority — as the Covid-19 pandemic has evolved so has our policies
We are now able to see you and have instituted the following changes
Masks are now optional in clinic. We will continue to have a supply and if you are inclined to use it, we will provide one for you. We will continue to use masks in the surgical unit and will ask patients and accompanying guests to do the same in the surgical section.

All surgical consultations, pre-operative appointments, and post-operative appointments are now allowed to have adult guest. For all skincare and ENIC appointments, you may be accompanied by your guests. We continue to ask that children not be brought to our clinic. And we also ask you to try not to bring more than one guest. We want you to get the most out of your consultation and procedure.

You may now use our waiting rooms for your comfort and convenience.

We continue to ask you to arrive on time to your appointment. Failure to do so may result in your appointment being rescheduled.

If you currently have a

Brilliant Distinctions

® account, please transfer your account to the updated platform at

Alle.com

prior to your appointment.
If you are experiencing any symptoms (temperature at or over 100.3F, a dry cough, shortness of breath/difficulty breathing, chills, muscle pain, headache, sore throat, new loss of taste/smell), have been in contact with anyone diagnosed with Covid-19 in the last 14 days, please call our office to discuss.
If you would like to read what our staff members are doing to better protect you, please click here. If you have any questions or concerns, please call our office at (425) 827-7878 for The Egrari Plastic Surgery Center and Clinic and (425) 827-8285 for The Egrari Non-Invasive Center (ENIC).